RISE scholarship to conduct research about the adrenal gland
"Science is universal, and I wanted to explore what is outside of my bubble." (Jisoo Chae)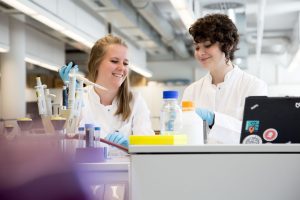 Two students from Canada and the USA have traveled far across the world in order to get to know the different fields of research in the laboratories of the Medical Faculty, Carl Gustav Carus Universitätsklinikum, Dresden. Here they work on new cell lines for the adrenal research. Jisoo Chae and Sylvia Bryn Martin were awarded the scholarship of the DAAD RISE program. This is a program conducted by the Foreign Office in order to support the international scientific exchange. 
With the support of two doctoral candidates of the CRC/TRR 205, they will have the opportunity to gain an insight into the scientific work in the only laboratory in Germany that focuses on adrenal glands research. Within the next three month, they will not only be observing but also supporting the two doctoral candidates, Tina Schubert and Ilona Berger, in their scientific work.       
Ilona Berger is obtaining her doctorate under Dr. Charlotte Steenblock (MKIII, Project A06) and will explore with Sylvia Bryn Martin, University of Victoria, on how stress affects the stem- and progenitor cells of the adrenal gland. (PhD thesis (Berger): 'The influence of stress on signaling pathways in stem-like cells of the adrenal gland').
Ms. Berger is very happy to receive the opportunity to share her enthusiasm about stress and the adrenal gland thanks to the RISE program: 
"In the next three month, Bryn will support me in exploring the impact of stress factors on the behavior of isolated progenitor cells of the adrenal gland. We will cultivate the cells together and then I will show her how to analyze these kinds of cultures. I especially value the interesting questions and discussions that enrich the project."
Tina Schubert is conducting her research in the in the Children's hospital under Prof. Angela Hübner (Project A04) and is looking after Jisoo Chae, University of Southern California. Ms. Schubert focuses on developing new ACTH antagonists to improve the treatment of congenital adrenal hyperplasia (PhD thesis (Schubert): 'Novel therapeutic approaches for congenital adrenal hyperplasia'):
"Jisoo supports me in characterizing a new cell line which is being used in various in vitro experiments. I am gaining a lot from the collaboration, because not only am I receiving an important new input for my scientific work, but I am also gaining a first hand experience in mentoring and supervising."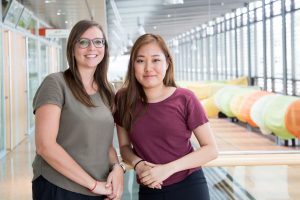 Jisoo Chae is a student at the University of Southern California and is majoring in Biological Sciences. She applied for the scholarship, because she was curious how the biology labs run on the other side of the world. In Dresden she found a research lab which matched her field of interest- endocrinology. 
Sylvia Bryn Martin is a undergraduate student at the University of Victoria, Canada, studying Neurobiology and Statistics. Her motivation for the application was her interest in the effect of environmental stressors on the endocrine system.