Two days focusing on the treatment of adrenal diseases.
The Center for Adrenal Disease (Nebennierenzentrum) at the Universitätsklinikum Carl Gustav Carus in Dresden informed on two consecutive days about the profile of the center.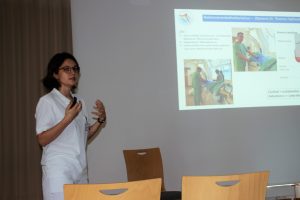 On the first day, 26.06.2019, Dr. Georgiana Constantinescu explained her colleagues of the Medical Clinic III. Patients with primary or resistant arterial hypertension receive complex diagnostical methods and a profound consultation. The Centre does not only has modern analytic procedures at its disposal but can also trust the knowledge of Prof. Graeme Eisenhofer, one of the worldwide leading specialists. This enables the proper diagnosis of primary hypertension or primary aldosteronism.   
In addition to that patients are being advised about therapeutic options which might also include surgery.  

Another aim is to establish a link between clinical and research work through the participation in studies. 
Due to the CRC/TRR205, spokesperson Prof. Bornstein (MKIII), the center profits from a network of leading specialists in the field research. 
Close connections and mutual studies (PROSALDO, PROSPHEO) exist with the Adrenal Centers in Munich and Würzburg. 
On the second day experts from the fields of research, surgery and endocrinology discussed how to optimize the patient care. It has been decided to meet twice a month in an "Adrenal Gland Board" to discuss the optimal treatment for every individual patient together.
Furthermore it is planned to work on SOPs (standard of procedure) for post- operative care with specialists from surgery, radiology and endocrinology.